Bayelsa State Governor, Douye Diri has directed the relocation of Government Girls' Secondary School, Kaiama in Kolokuma-Opokuma Local Government Area of Bayelsa state to a new site and facility.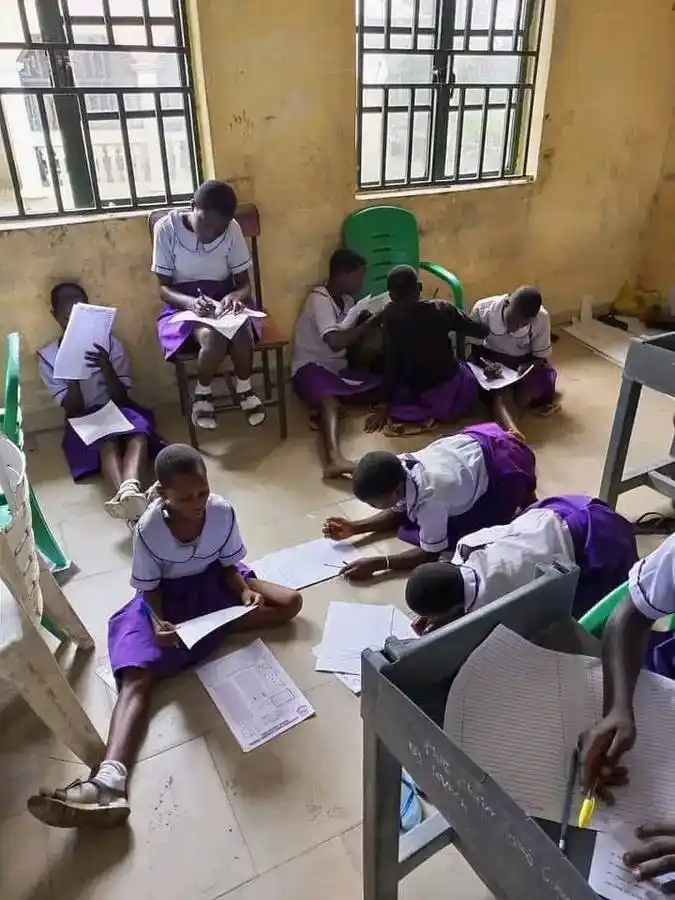 The Governor gave the directive after a photo of students of the school sitting on bare floor to receive lectures, went viral on social media.
A statement issued on Wednesday, July 6, by the Commissioner for Information, Hon. Ayiba Duba, said the Government is not unaware of the condition of the schools and a holistic plan of action is being implemented to revamp them.
According to him, this explains why government is committing huge resources on several ongoing renovation and reconstruction of existing school's infrastructure and construction of new ones.
READ ALSO: Teacher sues student for 'harassing and taunting him by leaving a banana in the doorway of his classroom'
He said the case of the Government Girls' Secondary School Kaiama is particularly pathetic because the school is susceptible to perennial flooding which often results to damage of facility and equipment in the school.
The Commissioner said the state government will continue to implement the ongoing reconstruction of infrastructure in a phased and systematic manner within the limit of available resources.
Duba said the public should be aware that government is in the know of the situation of the schools and the challenge it poses to quality learning is been addressed.
He said the state government wishes to assure the Bayelsa Public of its determination to revamp the system and hope that the public understands.
READ ALSO: Police arrest members of criminal gang who killed kidnapped Plateau varsity student for resisting rape
CREDIT: ALLSCHOOL, Linda Ikeji
Thank you so much for reading. We will appreciate it if you share this with your loved ones.