How to Easily Get your JAMB Profile Code for 2024 UTME Registration. We will also show you how to Correct the Name in the JAMB Profile and how to retrieve lost confirmation code.
The Joint Admissions and Matriculation Board (JAMB) has announced that 2024 UTME candidates can now start generating their Profile Codes. This page will show you how to do that.
Before we proceed, please note that the JAMB profile code is exactly the same thing as the JAMB Confirmation Code.
DON'T MISS OUT: Stay Updated With JAMB Latest Updates on WhatsApp. Click Here and Follow Our JAMB WhatsApp Channel Now
SCORE VERY HIGH IN JAMB: The easiest way to score high in JAMB is to start preparing early and study SMARTLY. Join the Allschool.ng's JAMB VIP Online Lesson and see why we are TESTED & TRUSTED by thousands. Click Here to learn more.
SMASH THE EXAM: Get familiar with the JAMB Exam Method. Practice JAMB Past Questions in a fun way. Study wisely with the ALLSCHOOL JAMB CBT App Click Here to learn more.
All JAMB candidate MUST use their phone number to get their JAMB Profile Code for the UTME registration.
The phone number can be used by one candidate only. CANDIDATES SHOULD NOTE AND ALWAYS REMEMBER THE NUMBER USED, IT IS OF UTMOST IMPORTANCE FOR SUBSEQUENT COMMUNICATION WITH JAMB.
Articles You Should Also Check Out
How to get JAMB Profile Code for 2024?
The easiest way to get your jamb profile code is by dialing *​55019*1*NIN# ie for eg *​55019*1*12345678999#
Alternatively, you can follow the procedure below:
Candidate should send his/her National Identification Number (NIN) by text (SMS) to 55019 or 66019 from his/her phone number e.g write the word "NIN" then space and add your 11-digit NIN Number and send to 55019 or 66019 in this format (NIN 00123456789).
There should be a space between the word "NIN" and your 11-digit NIN (Note that the number must not have been used by another person to register for UTME/DE in the past).
A Profile Code of 10 characters will be sent to the candidate on the same phone number
The phone number used for the text message is automatically tied to the candidate's 2024 application, Examination, and Admission.
After getting the profile code, what next?
Candidate will present the profile code at the point of obtaining the JAMB form (Banks, MMOs, MFBs, Switches, USSD Partners).
An ePIN will then be sent as a text message to the candidate's Phone number
The candidate will present the ePIN and profile code at any JAMB-accredited CBT Centre for registration
Other Things To Note
The application cannot be completed until the candidate's biometric (all ten fingers) are captured and photograph taken physically (No submission of passport photograph). Successful capture of biometrics and photograph will authorize a candidate to print his/her e-registration slip. The finger print shall be required for any further transaction with JAMB on the candidates' profile.
Only candidates whose biometrics verification is successful on examination day will be permitted to sit the UTME. No parent or any proxy is allowed to make any transaction on the candidates' profile.
Candidates with biometric challenges can only register at JAMB headquarters Abuja. The arrangement will be made for this through JAMB state offices
Do you want to Receive Your Already Purchased UTME Pin?
UTME Candidates: To receive your already Purchased UTME PIN again, Send UTMEPIN as SMS from your unique GSM number to 55019. e.g. utmepin
Direct Entry candidates: To receive your already Purchased Direct Entry PIN again, Send DEPIN as SMS from your unique GSM number to 55019. e.g. depin.
Solutions to JAMB Profile Code Issues
NIN SMS Sent To 55019 But No Reply Or Not Sent?
SOL: Remove your SIM card from the phone, insert it into another phone and resend.
Phone Number Used Already By Another Candidate?
SOL: Use another line. You can buy another line that has not been used. But ensure the line you use will not be used for JAMB again.
Insufficient Balance?
SOL: Profile code generation costs N 50 so make you have it on your phone's airtime before you send.
Invalid Character Found?
SOL: Make sure you're using the right format.
To generate your profile code, send NIN followed by your 11-digit NIN to 55019 e.g. NIN 85429832455
NOTE: Ensure there are no commas (,), full stops (.), colon (:) and dash (-), etc.
Record Not Found For The NIN?
SOL: Check if the NIN you sent was correct, or visit any NIN centre to verify yours well.
Date Of Birth Invalid?
SOL: Go back to NIMC (where you did your NIN) to edit your date of birth. There is a cost for this, around N15,000.
Surname/First Name Missing In Your NIN Details?
SOL: Wait for a few days and try again or possibly visit NIN centre.
Your NIN Passport Obtained Is Not Valid?
SOL: Wait for a few days and try again.
No Record Found For NIN Contact NIMC?
SOL: Visit NIMC Centre to verify your NIN ASAP.
Your Profile Code Has Been Used By Another Number.
SOL: This is particularly for those who have registered JAMB before now. JAMB won't send a new profile code, so text RESEND to 55019 using the former number.
Unable To Charge Your Line At The Moment?
SOL: Wait for a while and try again.
Do all the above solutions not work?
SOL: Send a message with your complaint to the email below. The message should have your Full Name and NIN.
13. Unable to verify your NIN at the moment. [nimc:unknown]
SOL: Your NIN isn't linked with the number which you used to send the message. Just go to your network's office to link it or dial its code.
14. Error occurred (540). Please try again after some time.
SOL: It's a network issue. Just try it again after a while
15. Bad Request, You can only send other commands using this endpoint
16. Wrong Parameter passed. Send HELP to 55019 or 66019
SOLUTION FOR 15&16
This means you didn't send the correct thing.
Now let's assume your NIN is 12345678912, what you will send to 55019 will be:
NIN 12345678912
Just replace the 12345678912 to your own NIN.
Still got issues, contact JAMB Support via the procedure below:
How to send Email to NIMC to Solve Profile Code Issues
Tap the link below:
nimc-jamb2024@nimc.gov.ng
Or Open your Email App, click on Compose. In the TO column, type this email address: nimc-jamb2024@nimc.gov.ng
In the Subject Section, summarise your issue. For eg, write something like: I have NIN Issue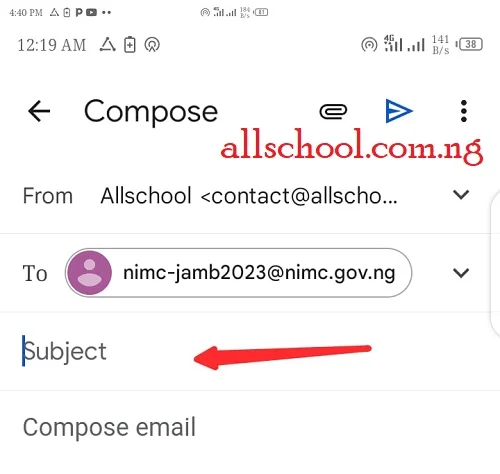 In the Compose Email section, explain the issue you are facing. Be polite and detailed with your complaint.
NOTE: Make sure you type the phone number and NIN that has the issue.
After constructing your email, hit the send icon.
That's all! Wait for a while (might take days) and you'll get a response. If you do not get a response after 5 working days, RESEND THE EMAIL.
How to Complain About JAMB Profile Code Issue
Visit the JAMB Support portal via support.jamb.gov.ng.
Click on "Create Support Ticket". You'll see a pop-up saying: If you are a candidate with a JAMB registration number please click "Yes". Else click "NO".
Choose accordingly.
Enter your jamb registration number (if you select YES). If you select NO, enter your name, email and phone number where necessary.
Select the nature of your complaint from the drop-down list. Make sure you select 2024 NIN RELATED ISSUE.
In the subject area, just enter a brief summary of your complaint. eg, "NIN Issues".
In the message area: That is the place to write out all your issues. Provide more detailed details as that would help assist you.
If you have screenshots you want to attach, click on the Choose File button and select the file.
Now finally, go through all the information you have provided and click the SEND button when you are done.
Please take note of your transaction ID.
When JAMB Support replies to you, you will be notified via email.
OLD Method Of Creating JAMB Profile
Kindly log on to JAMB e-Facility portal via https://efacility.jamb.gov.ng/
Click on the "Create and Account Button"
Enter your Email and other required details in the boxes provided [NOTE: You are advised to create an account with a valid email address because all vital information will be sent to the email you supplied ]
After providing the necessary details kindly click on the "Validate e-Mail" Button
If all details were correctly imputed, a message box will be displayed asking you to confirm your email address "Your e-mail address has been saved and a confirmation mail has been sent to you (Kindly check your inbox and spam folder). Confirm your e-mail by clicking on the link in the mail to continue your account creation. Your Confirmation Code is also sent to your Provided GSM Number"
Kindly Check the Email that you provided, If via email log in and click on the activation link or copy the code and go back to the registration page and input the 10 digit profile code being sent or delivered to you.
Kindly provide the code in the box and Click on the "Verify Code Button"
If the code provided is accepted and correct you will now be redirected to the Registration Form Page to fill in all your correct details. [NOTE: Do not make any mistake on this form as any amendment or correction will lead to a service fee of N2,500 on the JAMB Correction of Data Portal.]
After Providing all accurate details, Finally click on the "Sign Up" button to finish the JAMB Profile Account Creation Process.
You will be redirected back to the JAMB E-facility page to log in after successful account creation.
NOTE: You can also create an account by visiting any JAMB Accredited Centers or Cybercafes or Using your mobile phones follow the procedures below;
If you have any questions regarding or related to this article, then drop them in the comment box below and we will be very happy to answer them!
Thank you so much for reading. We will appreciate it if you share this with your loved ones.