JAMB Result 2023: This page is for JAMB Candidates who wrote the JAMB UTME Exam from 25th to 2nd May 2023.
This is to inform the general public, especially the 2023 UTME Candidates who wrote their exams from 25th April – 2nd May 2023 that the JAMB results have been released on Tuesday 2nd May 2023.
DON'T MISS OUT: Stay Updated With JAMB Latest Updates on WhatsApp. Click Here and Follow Our JAMB WhatsApp Channel Now
SCORE VERY HIGH IN JAMB: The easiest way to score high in JAMB is to start preparing early and study SMARTLY. Join the Allschool.ng's JAMB VIP Online Lesson and see why we are TESTED & TRUSTED by thousands. Click Here to learn more.
SMASH THE EXAM: Get familiar with the JAMB Exam Method. Practice JAMB Past Questions in a fun way. Study wisely with the ALLSCHOOL JAMB CBT App Click Here to learn more.
LATEST UPDATE: Candidates can now check their Original result onnline through the JAMB Portal. See how to do that below.
But what is JAMB Original Result?
The JAMB original result is the result that contains the candidate's passport photograph, JAMB score, choice of institution/course, etc is not on the Notification slip. You need to pay at least N1,000 before you can get it.
Check the image below to see a sample of the JAMB original result. Personal details were covered for privacy protection.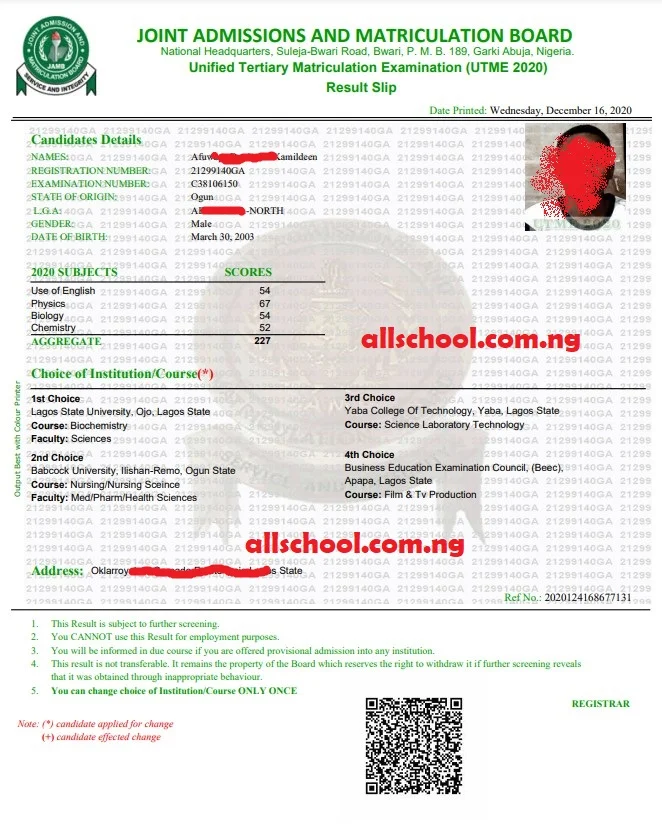 How to Check JAMB Result 2023.
Check JAMB Result via SMS
To check your result via SMS, send UTMERESULT to 55019 using the same phone number you used for the JAMB registration.
Note that you must have at least N50 for you to receive your results. Also, make sure you don't make any mistakes. What you should send is UTMERESULT to 55019 or 66010 (send to just one of the numbers).
Check JAMB Original Result
This method will cost you at least One Thousand Naira (N1,000).
Go to the JAMB Login Portal by CLICKING HERE
Enter your email address and password and log in (you must have linked your email with JAMB, if you haven't visit a jamb cbt center to do that)
Locate and click on Print Result Slip
Make the payment of N1,000 and proceed to check your result.
See the step-by-step methods to pay for the result on the How to Check JAMB Original Result page.
Check JAMB Result Online.
This is free to check but it wasn't used last year. It may be used this year.
Go to the JAMB result checking portal by CLICKING HERE
Enter JAMB Registration Number (eg 20233672675AB), email, or phone number in the space provided. Note that they're asking for the phone you used to obtain your profile code
Then click on check utme result to view your result.
Why Won't Some Candidates See Their JAMB Results?
Some Candidates may NOT see their results because of:
Their Results May Have Not Been Released. Candidates in this category shouldn't worry. Just check it back later! The results are released in batches!
Candidates are sending the wrong message to the wrong number! If you don't send the message correctly, you'll not see your results. Make sure you're sending UTMERESULT to 55019.
OR send UTMERESULT to 66019. DON'T MAKE MISTAKES!
Sending the message through the wrong phone number: Make sure you're sending the message through the exact phone number you used to register for the JAMB.
Network Issues: This might be from your network (MTN/glo/airtel, etc) service error. Just try it back later at night, and you'll see your results.
Aside from the above problems, some candidates may not see their results because JAMB detected that they faced technical challenges while writing the exam.
According to the Head of JAMB's Public Affairs and Protocol, Dr. Fabian Benjamin, some of these candidates didn't even know that they had such challenges. These set of candidates will join the Mop-Up Candidates re-write their Exams on 6th May.
In JAMB words: "As candidates check their results on Tuesday, 2nd May, 2023, those who sat the examination but had challenges without being aware of such, would not see their results but would instead see their notification for rescheduled examination.
"Consequently, all candidates who sat the examination are urged to check their results on or before Thursday, 4th May, 2023."
If you have any questions, feel free to ask us using the comment box on this page.
Recommended JAMB Articles
The Allschool Team wishes you the best of luck in your academic pursuit!
Thank you so much for reading. We will appreciate it if you share this with your loved ones.